All The Great Features of the CombiCam E with the addition of RFID Card Access!
The RFID Combi-Cam E Lock has the same very popular features such as 10 year battery life, normal or locker modes, compact size and more. The RFID Cabinet Lock model can be programmed to either accept numerical input or RFID cards, fobs or bracelets. RFID cards can be used in the following manner: Up to 12 cards per RFID Locker lock (including Maser and Service)
Multiple cards per RFID lock (locker mode). Any card, fob or bracelet presented in open mode is the same to unlock
The Combi-Cam RFID Cabinet Lock offers an ergonomic, compact form cabinet lock that makes it more versatile in more applications. The amazing, up to 10 year battery life translates into far less periodic battery changes which requires less labor on cost for years down the road. The Combi-Cam E retrofits any cabinet lock application without permanent, further cutouts required to make the lock fit. The Combi-Cam E standard offers a variety of optional programming features and the RFID version adds yet a few more. A low battery indicator flashes for 250 uses (which human nature tends to ignore!) and a temporary battery supply is easy by simply connecting a new battery to the two light nodes long enough to enter the code and open up the lock.
2 RFID proximity cards included with each lock
The RFID version offers even more versatility with up to 12 users, including master and service access in standard mode. In One Time Use Mode (Locker Mode) any compatible 125 MHZ RFID device presented (card, fob or bracelet) when the RFID Cam lock is open then becomes the same device to then close and open the RFID lock. One card can control multiple RFID locks, multiple cards to one RFID lock, etc. – All can be overridden with a master card for lost cards, etc.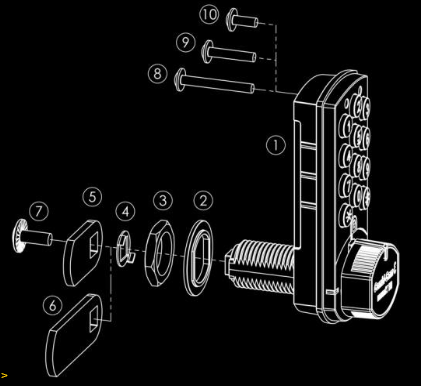 Dimensions: 3 1/2 inches long x 1 1/2 inches wide x 1 1/8 inches deep (including knob)
Up to 10 year battery life! (8 year on RFID)- No periodic battery change hassle!


Retrofits current standard RFID cam locks with no permanent, additional cutting required


Compact, ergonomic design is more versatile for more applications


RFID Lock version offers up to 12 users including master and service


Standard mode and One Time Use Mode (multiple users in a day present card to lock when it is open and use it)


Can be installed flush or semi-flush


RFID Lock version can also be reverted back to code only access if needed in future


Simple to program with a lot of optional features


Comes with different accessories depending on the customer: key fob, wristband, or traditional key card


IP55 Compliant- water and dust proof. Ideal for sauna and shower areas


Low battery indicator and also a battery supply backup connecting to two front light nodes


2 RFID proximity cards included with each lock

The Combi-Cam E is an ideal electronic RFID cam lock for most applications featuring more compact design, longer battery life and more features at a better price!

Two Modes of operation are possible

One Time Use (Locker Mode):
Sometimes also called Day Use, different users utilize the locker during the day. Each person walks up with their with a 125MHZ compatible RFID device (card, fob, bracelet) to an open lock / locker and after placing their items into the locker, uses their card to lock and later unlock the locker.

1. Push any button to wake up the lock

2. Hold middle of card to Combi-Cam logo for 3 seconds.

3. After confirmation beep/green light, turn the knob to lock

4. Upon return repeat steps 1 and 2 to unlock

Normal Mode:
Normal mode is one user assigned to one locker with their own card.

1. Push any button to wake up the lock

2. Hold middle of card to Combi-Cam logo for 3 seconds.

3. After confirmation beep/green light, turn the knob to unlock

4. To lock, return the knob to the locked position

Up to 12 users can be programmed to access each RFID electronic lock (including master and service cards).



RFID Door Lock Master Card:
Any RFID lock that is in any mode, the use of the master card works on all locks (must be programmed in each lock when set up).

1. Push any button to wake up the electronic RFID lock

2. Hold middle of card to Combi-Cam logo for 3 seconds.

3. After confirmation beep/green light, turn the knob to unlock

The Master Card can also be used to do various programming to the electronic RFID lock. See instructions for more information.



Battery: 3.0V Lithium CR 2450

Key Pad: Silicone Keypad

Operating Temperature: 0 -50 C | 32 -122 F

Storage Temperature: -10 - 70 C | 14-158 F

Operating Moisture: 20 – 80% Rh (without condensation) 71g (excluding deadbolt and mounting items)

Battery life: 10 years (for 10 uses a day)

Comes with 2 types of cams

Dimensions: 3-1/4" H x 1-1/4" W x 5/8" D

3812