Amsec UL Fire Rated Electronic Digital Keypad Safe With LCD Screen
NEW! EST Series Electronic Safes with DL5000 Lock EST1814 and EST914
Features
:
U.L. Listed 350°F, 1-Hour fire rating.
Impressive 5/8" thick door with attractive two-toned sage finish.
Handle operated side, top and bottom locking mechanism incorporating (4) 1" chrome plated locking bolts.
Two deadbolts prevent door removal if hinges are removed during a forced entry attempt.
New State-of-the-art DL5000 electronic lock with a large 3 ¾" touch screen LCD input display allows smooth and easy operation. Mode altering display changes from orange in standby mode to bright blue in the open position.
Accepts (2) user codes and can show open door records for the past 14 entries.
LCD touch screen display shows low-battery indicator, time, date and keypad.
Emergency key-lock override system with two (2) keys, power override battery box, built-in spy-proof function and motion detector alert. Combination changes are fast and easy.
EST1814 Features: One (1) internal anchor hole and hardware, (4) removable rolling casters, (1) adjustable shelf and (1) top mounted key lock drawer.
EST914 Features: One (1) internal anchor hole and hardware, (4) rubber feet and (1) drawer shelf.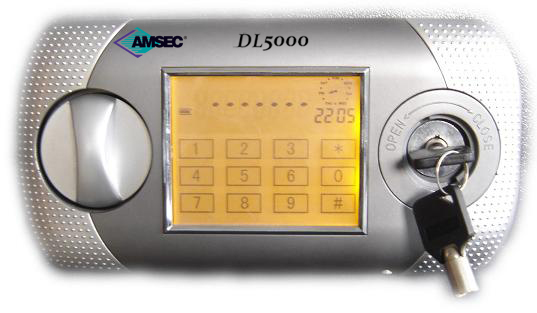 This safe is not UPS shippable and will be delivered by Motor Freight truck



Please note: Delivery includes trucking to your location only. If you will need help in unloading the safe off the truck an electric lift gate is available for an additional $89.00. (See below) The liftgate is attached to the truck and will allow the driver to lower the safe to the ground for you. Driver will only unload it off truck. Delivery charge only includes transportation from our location to yours. If you will need additional assistance in moving safe to and into your home or business then please have that arraigned previously. A local moving company in your area should be able to assist you. Large safes cannot be shipped to an APO address or to Alaska or Hawaii.



Dimensions:
2,920 cu. in. capacity
23 5/8 x 18 7/8 x 18 7/8 - HWD
187 pounds





We also accept Paypal for US orders and now also international orders through our International Checkout.
We are proud to be A top rated store!



Phone:561 477-1864

Have a question or comment? e-mail us! We look forward to hearing from you!
In This Business Since 1978



All rights reserved 1996-2020 The Keyless Lock Store™ and Nokey.com™



Customer Testimonials Taken Directly From Shopping



Knock lock (Knocklock) - Knock To Unlock
$98.00



Aiphone Very Easy To Install Intercom System
$149.00



Supra Keyless Digital Key Cabinet
$129.00



Yale (Assa-Abloy) Assure (Real Living) Electronic Deadbolt Lock
$319.00



Yale/Arrow NexTouchTouchscreen Electronic Lock
$479.00



The Lure Of The Lock Book
$59.00