Please note that the Yale Nex Touch (Formerly Arrow Revolution) is now Grade 1 commercial hardware. Don't forget to watch the video below on how they beat the heck out of this lock and it just kept on going! It's very impressive.

The New NexTouch stand alone touchscreen lock combines the functional elements of a cylindrical lockset with the latest technological designed for electronic aesthetic. This new lock combines easy installation with very attractive and futuristic styling.
Using this lock is easy because of the voice guided keypad"
This makes day to day use and programming easy. The Revolution is recommended for healthcare facilities, offices, retail environments, multi-family, hospitality, government facilities, as well as K-12 school environments. It provides a traffic control solution for areas requiring restricted access. If necessary, both users and user groups can be easily locked out by the administrator. This feature provides a quick lockout option in case of a security concern. Lock can loose all battery poweer and still be activated either with a common 9 volt battery or the included backup key.
Watch how easy it is to install compared to another common lock
Watch how easy it is to program the code compared to a competitors mechanical lock
See them beat the crap out of this lock!
Features:

Stand-alone touchscreen access locking device
Heavy duty grade one hardware
Install lock and latch with only 5 screws - easy!
Relatively easy installation. Only one additional smaller hole needed besides the main 2 1/8 inch diameter hole. 
Interactive voice-guided programming 
Tri-lingual, English/Spanish/French 
Optional hardwire input for 9VDC external power 
Internal power uses 4 AA batteries 
9VDC battery connections for emergency access 
Request to enter (REX) input allows remote access capability 
Silent mode option 
Visual verification of pin code programming 
Feature access through keypad programming, 4-12 digit user pin codes 
Two operational modes - EZ Mode (9 users) or Advanced Mode (1,000 users) 
Lockout or privacy mode. Set from the inside to lockout all codes temporarily 
Passage Mode 
Auto Re-Lock



Mechanical Components: 
Weather Resistant 
We include the Key Override and cylinder - Uses standard Yale Y1 keyway. 
Overdrive Freewheeling lever disengages the lever when handle is locked. 
ANSI/BHMA A156.2, Series 4000, Grade 1 
UL Listed for use on fire doors 
ADA compliant levers 
Install lock and latch with only 5 screws 
Also available in Small Format Interchangeable Core Prep 
UL Listed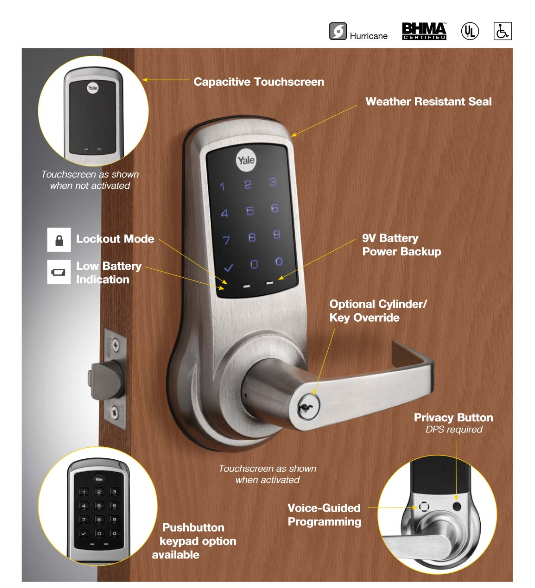 Technical Specifications:
Door Prep: Standard 161 Prep with one additional 1/2" hole
Backset: 2-3/4" standard
Handing: Field Reversible
Door Thickness: 1-3/8" and 1-3/4".
Latch: Stainless Steel with 1/2" throw standard. Latch housing is steel, zinc dichromate finish for corrosion resistance.
Latch Front: Stainless steel. 2-1/4" x 1-1/8", 1/8" in 2". Exposed Trim: Levers are pressure cast zinc. Streamline rose scalp of brass or bronze complements other series of lever locks.
Rose Inserts: Contains coil spring which is a permanent assembly within the rose.
Strikes: Stainless steel. ANSI A156.115
Handling: Non-handed. Levers operate bi-directionally.
Warranty: Three-year and if you buy the Revolution from us we will throw in an extra year and include an easy return through us. You wont have to deal with the manufacturer at all!