This low cost computer based indoor access controller now comes in a new decorative and compact size and directly connects to your computer serial com port (or optional USB). It's a time clock and access control system in one. You dont need a control panel. Unlike some other low cost systems you are not limited to just a few cards or fobs. You'll have an unlimited number of proximity cards or fobs and the database size depends on your computer's storage capacity. Grant or remove access allowed easily. Time Recorder or audit trail(for Windows) is included. Export the clock in / clock out time to Excel or text file format. Max distance between prox reader and PC about 15 feet. For longer distances see Item: 1903 - Avea RS422- RS232 to RS422 Converter (Sold In Pairs) below. The reader can also be connected to a PC using a simple USB to serial convertor.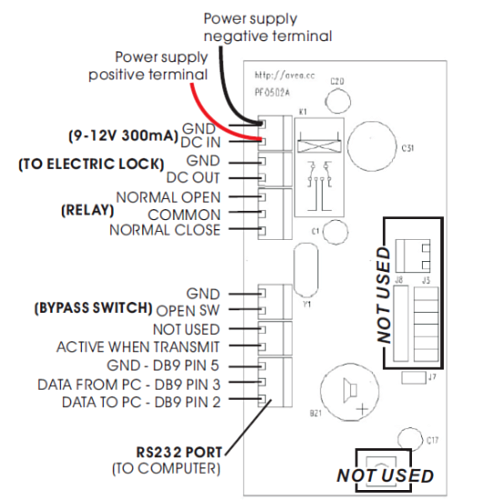 With a proximity card reader you'll have a keyless environment without card slot and associated maintenance costs. Power supply requirment: 9 to 12VDC 300mA - 1 amp.
A Relay output is used with an electric strike or magnetic lock for low cost access control
Reading range about 2 to 3 inches
LED Indicator : Green and Red.
Dimensions: 3 3/8 " W x 3 3/8 " H x 1 1/8 " D or : 86mm x 86mm x 30mm
Color : White
Great performance and reliability with a stylish modern appearance.
Very inexpensive way to start an access control system.
Mounts directly on electrical box or any flat surface for easy installation.

A powerful low cost reader in a very attractive package.

Fast and reliable keyless environment without mechanical parts, card slot or magnetic head.

Reduces maintenance costs because a prox reader has no moving parts

High reliability and consistent read range (about 2 to 3 inches).

Relay output to control electric strike or magnetic lock - (an extra power supply is needed for the strike or mag).

Low power consumption- less than .5 amps.
Serial cable inclded and can also be connected to PC with simple USB convertor - (Not inculded).
No limit on the number of cards or fobs used in the system.
Now comes with either 10 free Cards or 10 free Fobs - your choice






Related Products
See our electric strike and magnetic lock section
Heater kit for cold weather
See the book: The Guide to Electronic Locking Devices


Don't forget the power supply! Click here for power supply with battery back-up



Comes with proximity cards or fobs, serial cable and audit trail software. Most other brands charge extra for these items. See below to order more cards or fobs for this proximity system.

Important! Please note: always use a separate power supply when using a proximity card reader and an electric strike or magnetic lock.