Corby Chip (iButton) Heavy Duty Reader - 17 User Capability

Unlike some other touch button systems we have seen you do not need a seperate module to make this work.
The picture on the left is the standard size reader. The reader head is mounted on a standard size plate. The picture on the right is of just the reader head with the two wire leads. (The Head is available by itself. Please call for price). The head can be mounted almost anywhere for an almost invisible installation! It looks a bit like a bell button. This system works as follows: A small reader is mounted outside the door, usually on the frame, and the user touches the reader with a small button-type key to activate it. When the correct key is presented to the reader, an LED flashes and the lock is activated. The opening time is easily adjustable. All it takes is a very light touch, and position isn't critical--so these systems are great for people with weak hands or those who find it difficult to insert and turn a key.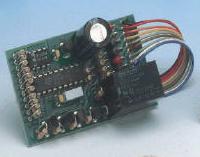 Circuit board that is installed inside the protected area.


A chip reader system is extremely difficult to bypass. The only way to activate the chip in the little key, is to have it contact the correct reader.
The little chip keys are very inexpensive and they can be reused many times.
Programing a small system is very easy and takes just a few minutes. No special programmer or tool is needed and it programs right at the reader.



More on Data Chips or ibuttons: Corby Data Chips contain sophisticated electronics to store a personal identification number in a coin shaped, sealed, stainless steel canister. This superior design allows the Data Chip to be easily attached to any smooth surface including existing photo ID cards, badges, or keychains. Innovative packaging protects the electronic circuits inside the canister from dirt, moisture, corrosion and static discharge.

Touching a Data Chip to the reader instantly transfers a 46 bit data stream of digital data which allows the user access to a secure area. Unlike keys or other security cards, the Data Chip is user-forgiving... it doesn't need to be precisely aligned to transfer its digital data.

Don't forget that this is only part of a system. Along with the chip reader, you'll also need a lock of some type. Usually it's an electric strike or magnetic lock Often an intercom will be part of the system too. If you will need an intercom, we recommend and sell the Aiphone brand. This company manufactures excellent intercoms at reasonable prices. See the associated equipment page.


This is a very small reader. This system comes with two chip keys. See below to order more.

This is a basic and easy to use and easy to program system and very easy to install. Unlike some other chip key reader systems on the market, this one includes the outside reader and the inside module. Great if you need a system for just 17 or less seperate users (such as a small apartment building or dorm) and each user can be added or deleted in seconds

By leaving out some features that may not be needed (see below for more advanced systems) this system offers advanced technology at a great price.



Features:
2 part system - Sensitive electronics are installed inside protected area for a more secure installation

10-14 VDC Operation

Weatherproof Reader

Up to 17 Different Users

Can Interface with a serial Printer

Heavy-Duty 5 amp Relay

Momentary or Latching Relay - can be used for high security garage door installations

Stainless Steel Reader

Unlimited Users Mode

Request-To-Exit Input

LED Driver Circuit

Chip keys can be re-programmed unlike regular keys

Very small Reader - can be installed just about anywhere and on any type of surface



Size:
Ultra slim design can be mounted almost anywhere - only 3.125" High X 1.375" Wide
Power requirements:10-14 VDC

This basic systen can be ordered with either the regular plate or the thin plate or no plate (just the reader head). Call if your not sure which one you need.

Related Products
See our electric strike and magnetic lock section


Don't forget the power supply! Go here
Or a power supply with back up battery system Go here

Please note: The reader comes without keys. The little Corby Chip keys can be ordered below.



1138



We also accept Paypal for US orders and now also international orders through our International Checkout.
We are proud to be A top rated store!



Phone:561 477-1864

Have a question or comment? e-mail us! We look forward to hearing from you!
In This Business Since 1978



All rights reserved 1996-2020 The Keyless Lock Store™ and Nokey.com™



Customer Testimonials Taken Directly From Shopping



Knock lock (Knocklock) - Knock To Unlock
$98.00



Aiphone Very Easy To Install Intercom System
$149.00



Supra Keyless Digital Key Cabinet
$129.00



Yale (Assa-Abloy) Assure (Real Living) Electronic Deadbolt Lock
$319.00



Yale/Arrow NexTouchTouchscreen Electronic Lock
$479.00



The Lure Of The Lock Book
$59.00