User Programmable PLC Interlock

Field Selectable Door Sequence And Functions:
The 4800 PLC interlock controller is a cost effective method for operating door interlock and mantrap systems of up to five doors. The fully integrated controller is a one board solution that allows the installer complete control of all operating and configuration options without complex software. Standard Configuration includes PLC Controller mounted in a 12 x 16 x 4" Enclosure with 4 amp 12/24VDC power supply. Controls 2 – 5 Doors in Any Combination Locked or Unlocked.
Environmental or Security Applications
Suitable for air locks or security mantraps, with up to five normally locked or unlocked doors. This controller may be customized to control automatic door openers and provide custom timing and logic sequences for biological wash-down controls. Other configurations provide outputs for traffic lights, forced door alarms and an emergency panic release input.
Access Control Compatible
Any access control system can be used with the 4800 series controllers. The request for access input recognizes any normally open dry contact. Each door has a normally open dry contact output to mirror door status back to an access control panel or remote console
Available with 12/24 VDC Power Supply
The 48501 series PLC controller is paired with a heavy duty 4-amp power supply that includes a Fire Alarm connection for emergency egress and can provide power to operate maglocks, electric strikes and traffic lights. The controller is also available without the power supply & enclosure for connection to an existing 12-24VDC power source.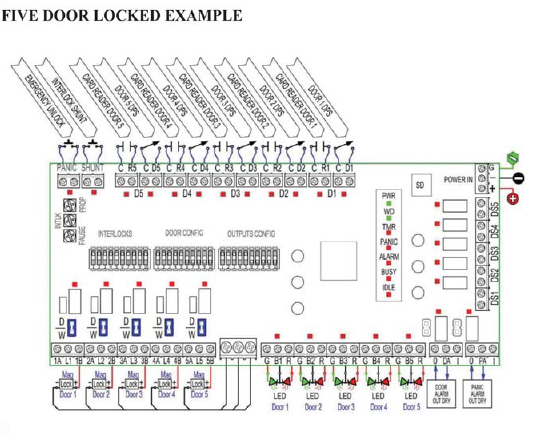 Operation –
: Only designated doors may be unlocked or open at any time. Unlocking or opening one door automatically secures other designated doors within the Interlock. A request for access at any normally locked door will inhibit the REX inputs for all other locked doors and secure all designated unlocked doors in the area. Lock relay contacts will switch low voltage power to maglocks and/or strikes. Lock outputs can be set for either wet or dry contacts and fail-safe or fail-secure operation. For user feedback designated red/green LED outputs may be selected for either lock status or door availability status, typically a green light indicates that access is permitted, while a red light signals that another door is open and access is denied at this door. There are two designated alarm outputs one for an interlock door violation alarm and one to indicate emergency unlock for a panic release. Other customized operations may be selected to allow adjustable timed sequences for inflating door seals, purging air or timing washdowns.
Standard Configurations: #48501 PLC Controller Powered: Mounted in a 12 x 16 x 4" Enclosure with 4 amp 12/24VDC power supply. Controls 2 – 5 Doors in Any Combination Locked or Unlocked
Physical Data: #48501 Enclosure- 12" x 16" x 4" deep NEMA enclosure will accommodate PLC controller & 4 Amp power supply.
PLC Module - #48500 6" H x 10" L Din Mount
Electrical: #48501 AC Input - Fused 110 VAC
4204 Output - 4 amp field selectable @ 12/24 VDC
Inputs: Five Inputs for Door Status, Five Request for Access One for Panic release, One for Interlock Shunt/Override
Outputs: Five Lock Relay Outputs rated 2 Amps @ 28 VDC Five Door Status Outputs
Ten LED traffic indicators (2) for each door. One Door Alarm Output, One panic Release output
Timers: Three Onboard Adjustable Timers for: Propped Door, System pause (for air purge,door seals) and a Panic Release Unlock timer
Related Products
See our electric strike and magnetic lock section
See the book: The Guide to Electronic Locking Devices