Electronic Keypad Cabinet Lock
New model!
Electronic cam lock ideal for retrofit in cabinets and lockers.
Applications for 1/4" thick to 1 1/8 inches thick
8 digit master and submaster codes
4-digit user codes
6-digit technical codes
User code can be set to repeat (default) or single use mode
Concealed programming key (lock must be open to program)
Includes 2 cam styles
Fits standard cam lock prep
2 AAA cells; 15,000 cycles; 9V external battery jump start
Finish: Powder Coated Silver, die cast Zinc body





This new Codelocks cabinet lock opens up the possibilities for many more uses of electronic access control. This simple electronic battery operated lock is a very easy and quick retrofit (unlike some other much more complicated and expensive locks) for cheap cam locks supplied as standard on a wide range of lockers, cabinets and cupboards. Since there is no keyway it can't be picked or bumped open making it a much more secure installation. It can easily be fitted to lockers or cabinets, which don't have a locking device already installed, giving the user immediate and simple keypad access without the need for keys. This cabinet lock can be installed on:
Cupboards, cabinets and lockers etc as a direct replacement for existing cam locks. It can also be easily installed on cupboards and cabinets that do not have an existing locking device. Can be set so same code is needed each time or different code is used each time such as a shared locker type situation.









Note: The Cabinet Lock has a 5 button keypad and a # button. The # button is hidden beneath the handle when in the locked position. The lock has the following code levels:



Special Locker Mode now included: How does Locker Mode work?:
With the lock in single-use locker mode, the locker would be left in the unlocked condition. A new user would locate an empty locker, place their articles inside the locker, close it and enter their own personal 4 digit code. The lock would then buzz and lock. The user would return to the locker, enter the same 4 digit personal code and open the locker to retrieve their personal articles and leave. The locker would now be unlocked and ready for the next user.

Master Code can:
Open the lock
Change the Master Code
Set / Change / Delete the Sub-Master and User Code
Select between repeated use and single use codes

Sub-Master Code can:
Open the Lock
Change the Sub-Master
Set / Change / Delete the User Code

User Code can:
Open the lock
Change the User Code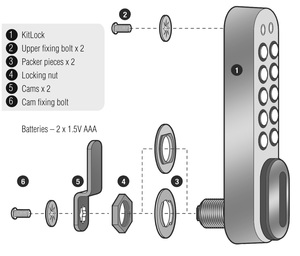 Easy to install!





1 Cabinet lock
2 Upper fixing bolt x 2
3 Packer pieces x 2
4 Locking nut
5 Cams x 2
6 Cam fixing bolt




Specifications:

Will work with cabinet door thickness of 1/2 or 7/8 or 1 1/8 inch. - see options to choose

Power: 2 x 1.5 volt AAA cells . Will provide in excess of 15,000 openings. Batteries included with lock

Attractive Silver Grey finish

10 second penalty lockout after 4 incorrect attepts

All codes are 4 digits long

Made from tough Zamac

Low Battery: The lock will signal low battery to the user via the LED flashing. The lock will open 100 more times after this signal is initiated

Battery failure override: Should the batteries fail the lock can be opened by placing the + and - terminals of a 9 volt rectangular battery (available everywhere batteries are sold) on contact points surrounding the LED's and entering the master code. The internal AAA batteries can then be replaced

Dimensions: 5 1/4 long x 1 1/4 wide x 7/8 inches deep.

See below for heavy duty model.



We also accept Paypal for US orders and now also international orders through our International Checkout.
We are proud to be A top rated store!



Phone:561 477-1864

Have a question or comment? e-mail us! We look forward to hearing from you!
In This Business Since 1978



All rights reserved 1996-2020 The Keyless Lock Store™ and Nokey.com™



Customer Testimonials Taken Directly From Shopping



Knock lock (Knocklock) - Knock To Unlock
$98.00



Aiphone Very Easy To Install Intercom System
$149.00



Supra Keyless Digital Key Cabinet
$149.00



Yale (Assa-Abloy) Assure (Real Living) Electronic Deadbolt Lock
$359.00



Yale/Arrow NexTouchTouchscreen Electronic Lock
$479.00



The Lure Of The Lock Book
$59.00