Revolving Surface Mounted Door Lock
New keyed surface mounted extra heavy duty deadbolt lock (or drop bolt) is great for locking revolving and sliding doors! Will work for many different types of installations such as a manual lock down for man trap or inter lock doors."
Aluminum body with a stainless steel
5/8 inch round bolt
- total length of bolt in and out of body is 1 9/16 inches. Takes standard one inch mortise cylinder with adams rite cam(included with a Yale Y1 or 999 keyway and 2 keys). Can easily be keyed into an existing key system by just changing the cylinder. Very heavy duty.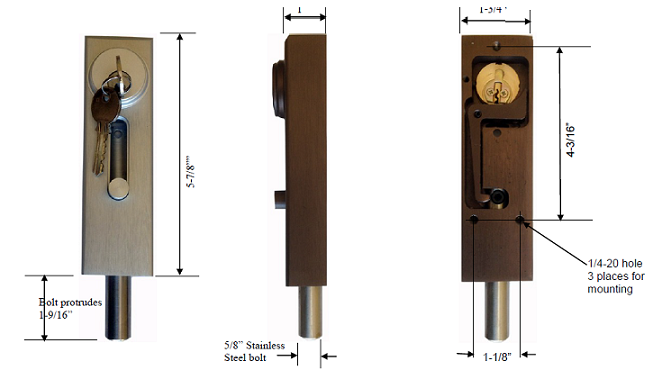 Case is 5-7/8" x 1-3/4" x 1" ingot aluminum
Stainless steel bolt is 5/8" round
Bolt protrudes 1-9/16"
Turn key 90 degrees and bolt drops. Extract key and bolt is locked in place. Bolt can also be locked into unlocked position.
Cylinder w/2 keys included
Available finishes: Duronodic, satin aluminum & polished brass

Important: if you'll be ordering the optional Medeco high security cylinder and hardened cylinder guard keep in mind that this then creates a seriously secure lock and if you loose your Medeco keys you will most likely have to call in a professional locksmith to unlock. Since this is a surface mounted lock there is no way to unlock from the reverse side. Just something to think about before proceeding.

Dimensions:
Case is: 5 7/8 inches long x 1 3/4 inches wide x 1 inch deep


Please note that one of the reviews below says that a Yale cam is used. This is incorrect. The correct cam is a smaller Adams Rite cam.



Heavy Duty Dust Proof Strike Plate
Used primarily with drop bolts or slide bolts when the lock is at the bottom of the door. It will keep most of the dirt out of the bolt hole. Comes with to screws and 2 anchors.

Dimensions:
2 1/4 inches deep from the faceplate to the back
1 3/8 wide on the faceplate
2 7/8 long on the faceplate

Finish:
Stainless steel

Heavy Duty Hardened Steel Cylinder Guard Ring
If you have a lock that uses a mortise or rim cylinder there is no easier and cheaper way to really improve the effectiveness of that lock.

Patio Door Lock ( Professional Model)
Ideal for: sliding patio doors, sliding windows, swinging doors, double doors, french doors, plus many more. Can be used on narrow stile doors and frames with a frame width of only 1 5/8".

We also accept Paypal for US orders and now also international orders through our International Checkout.
We are proud to be A top rated store!



Phone:561 477-1864

Have a question or comment? e-mail us! We look forward to hearing from you!
In This Business Since 1978



All rights reserved 1996-2020 The Keyless Lock Store™ and Nokey.com™



Customer Testimonials Taken Directly From Shopping



Knock lock (Knocklock) - Knock To Unlock
$98.00



Aiphone Very Easy To Install Intercom System
$149.00



Supra Keyless Digital Key Cabinet
$149.00



Yale (Assa-Abloy) Assure (Real Living) Electronic Deadbolt Lock
$359.00



Yale/Arrow NexTouchTouchscreen Electronic Lock
$479.00



The Lure Of The Lock Book
$59.00