IEI/HID RFID 6 Inch Proximity Card Reader/Keypad
Americam made!
IEI prox.pad is a stand-alone proximity reader providing single-door proximity access control. It is ideal for small installations requiring proximity card access, or for remote locations when used in an online system. The proxpad is compatible with all HID proximity cards up to 37-bit.
Note
: If you already are using HID cards and want to add a combination Proximity Reader/Keypad this is the one to use.
Features:
Has the unique ability to separate the proximity reader from the digital keypad and be installed 10 feet apart.

Relay or Wiegand voltage output

When used with Wiegand output this reader can be used with most multi door systems!

2 relay outputs

Keypad digits can be back lit

Use cards or numbers or both - your choice

Request to exit input

Reader able to be remotely mounted from controller

Weather resistant
2000 users


Takes a 12 VDC power supply
30 - 100 ma current draw

Dimensions:
2.75 Wide X 5.26 Long X 1.373 Deep

Related Products
See our electric strike and magnetic lock section
Heater kit for cold weather
See the book: The Guide to Electronic Locking Devices



Don't forget the power supply! Click here
Or a power supply with back up battery system Click here

Important! Please note: always use a separate power supply when using a proximity card reader and an electric strike or magnetic lock.



Weather Resistant Lock And Keypad Plastic Cover
Molded from super-tough polycarbonate material.

Stainless steel torsion spring maintains the cover in a closed position.

Protects against both vandalism and accidental damage.

Fast, easy installation.

Cover is backed by a lifetime guarantee against breakage in normal use.

Comes complete with mounting hardware and gasket.

Its many uses include protecting push-button units, smaller-size pull stations, keypads, electrical outlets and shut-down switches.

Gasket replacement recommended after five years.

Polycarbonate tested -40F (-40c) to 120F (49C).

Size:
8.5 inches long X 3 7/8 inches wide X 2.5 inches deep

Please note: When used with digital locks this cover only covers the upper portion where the buttons are so be sure you have enough room above the lock.

HID Proximity Cards 25
Order in lots of 25 These are flat white badge type cards and 26 bit format.

HID Proximity Fobs 10
The RF-programmable 1346 ProxKey® 111 proximity keyfob incorporates proximity technology into a convenient device approximately the size of an automotive key. Features • Offers universal compatibility with all HID proximity readers. • Provides an external number for easy identification and control. • Can be placed on a key ring for convenient entry. • Supports formats up to 85 bits, with over 137 billion codes. Proximity Fobs In Lots Of 10

ELK 12 & 24 Volts One Amp Power Supply With Battery Backup



The ELK-P112k or ELK-P124k is a very high quality Power Supply with a plug-in transformer and metal can enclosure. The P112 produces 12VDC @ 1 Amp and the P124 produces 24VDC @ .8 Amps. Both feature automatic resetting "fuseless" overload protection and diagnostic LED indicators. They are ideal for alarm, access control, and CCTV applications. Each comes with rechargeable battery. Most other power supplies at this price don't include the back up battery. A 12V 5Ah battery is included.

Features:

Built-In Battery Charging Circuit.

Auto Reset "fuseless" Overload Protection (PTC).

Visual AC and DC Power Indicators.

AC and DC Surge Suppression.

Lifetime Limited Warranty.


Specifications:
• Regulated Output Voltage: 13.8 Volts D.C.
• Continuous Current Rating: 1 Amp (ELK-P112(K), 800 Milliamps (ELK-P124(K).
• Included Transformer: 16.5 V 40 VA for ELK-P112(K), 24 V 40 VA for ELK-P124(K).
• Dimensions: 7.5"H x 12.5"W x 3.75"D.
• Battery Recharging Capacity: 1.2Ah to 8 Ah.
** Higher output current (up to 2.5 Amps) may be drawn for a short time provided a fully charged battery is connected

Low Profile Weather Cover With Backplate For Flush Devices
This indoor/outdoor, low profile polycarbonate cover helps protect devices such as dual action pull stations, keypads for entry systems, intercom stations, emergency buttons, electrical light switches, duplex plugs, etc. The strong, durable construction takes the toughest knocks while it guards against accidental or intentional physical damage.

This low profile Universal Stopper is clear with a enclosed flush back box. Other mounting options include a flush mount, surface mount or a waterproof Type 4X enclosed back box (Type rating pending). The cover is also available with a horn housing or message hood. The Universal Stopper is designed to comply with ADA and is less than 4 inches in depth. Universal Stopper has the same footprint as the Mini Stopper®, but has a larger interior and can accommodate most dual action pull stations.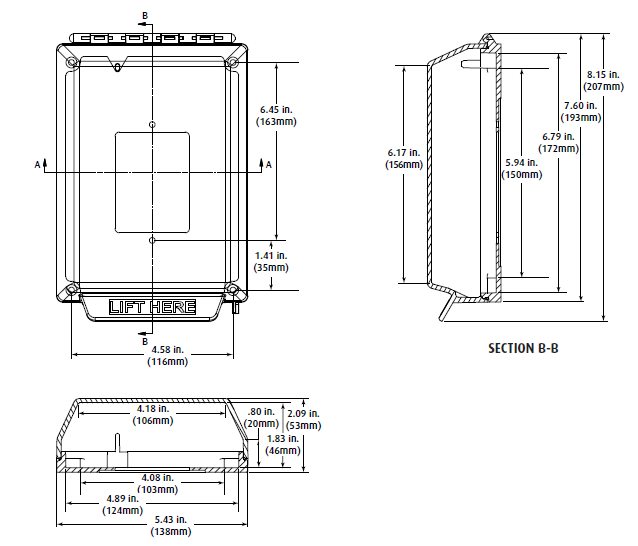 FEATURES


Protects against vandalism and accidental damage.
Protects pull stations, keypads, intercom stations, emergency buttons, electrical light switches, duplex plugs, etc.
Cover is molded from thick, super tough polycarbonate material.
Sized to fit most pull stations.
Includes a clear enclosed flush back box.
High strength continuous hinge.
Low profile - ADA Compliant.
UV-stabilized to keep cover clear.
Typical working properties of polycarbonate are -40° to 250°F (-40° to 121°C).
Three year guarantee against breakage of polycarbonate in normal use for the 14300NC

Approximate size: 7 3/8 inches long x 5 1/2 inches wide x 2 1/8 inches deep

We also accept Paypal for US orders and now also international orders through our International Checkout.
We are proud to be A top rated store!



Phone:561 477-1864

Have a question or comment? e-mail us! We look forward to hearing from you!
In This Business Since 1978



All rights reserved 1996-2020 The Keyless Lock Store™ and Nokey.com™



Customer Testimonials Taken Directly From Shopping



Knock lock (Knocklock) - Knock To Unlock
$98.00



Aiphone Very Easy To Install Intercom System
$149.00



Supra Keyless Digital Key Cabinet
$149.00



Yale (Assa-Abloy) Assure (Real Living) Electronic Deadbolt Lock
$359.00



Yale/Arrow NexTouchTouchscreen Electronic Lock
$479.00



The Lure Of The Lock Book
$59.00