Isonas Pure Reader Controller Wall Mount Single Or Multiple Doors

The new Pure IP™ hardware family from ISONAS offers a suite of products that allow you to customize your access control solution. Our Reader - Controller continues to take advantage of our patented technology and remains an all in one intelligent device; eliminating the need for a panel and allowing you to take advantage of your existing network. Check out some of the latest features of the RC-04:
No panel connection. All connections are made from the reader/controller
Mullion, wall mount and wall mount keypad form factors allow for US and EU compatible mounting options; creating a simpler install process at each door.
Reader-Controllers are available in two models: Multi-card technology (125kHZ and 13.56 MHZ) or a proximity-only version (125kHz).
Bluetooth® Low Energy (BLE) allows customers to utilize our Pure Mobile application and use their smart phone as their credential.
Local mode feature allows readers to function without a connection to the network. This results in faster user response times, less network traffic and reduced host system loading.
Tamper detection via accelerometer senses any type of altering and prevents a security breach with the reader.
Secure data transmissions with AES 256 bit encryption
Metal back plate provides additional security, a simple two piece installation and consistent read range

SPECIFICATIONS GENERAL • Multiple Form Factors - Mullion (5.1" x 1.7" x 0.71") - Wall mount (5.1" x 3.25" x 0.17") - Wall mount keypad (5.1"x 3.25" x 0.17")
Low Frequency, High Frequency and Bluetooth® Low Energy
Local Decision making with host programming
Made in the USA
Compatible with Pure Access Software Platform
Extension cable: 7.5in Adapter: 19mm diameter

POWER OPTIONS
Power Over Ethernet (PoE), (IEEE 802.3af, Class 0)
DC Power: 12VDC In (9 to 16V) PLEASE NOTE: 24V DC is not approved for this device

NETWORK COMMUNICATIONS
10Mb, Half or Full Duplex
Ethernet, TCP/IP, standard RJ45 Cable
Network host or client modes supported
DHCP Addressing Supported
Field flashable microcode

ENVIRONMENTAL
UL-294 Compliant
FCC Certifi ed
Operating Temperatures -40ºF to 135º F (-40ºC to 57ºC)
Conformal Coated for Weather Resistance
Exposure Ratings: IP56

OUTPUTS
8 wire pigtail
600mA provided to power the lock
Conditioned Lock Power
Fail Safe and Fail Secure Supported
Two Exterior Door Kit Outputs

INPUTS • Two configurable inputs: – Door Sense – General Purpose Request to Exit(REX) or Auxiliary(AUX) VISUAL INDICATOR
LED signal for reader status
Backlit Keypad

SECURITY FEATURES
Tamper Detection via an accelerameter
AES-256 bit encryption

READ RANGE
3" typical on RFID cards
Proximity read speed: <250msec

CREDENTIAL TYPES
125 kHz (FSK modulation)
13.56MHz
Bluetooth® Low Energy Supported (4.1 and later)
Mifare® Classic, Ultralight, and Mifare Plus
MiFare DesFire EV2 (CSN) ISONAS Only
iClass (CSN)
ISO14443A & B

READER-CONTROLLER INTELLIGENCE CAPACITY
64,000 Credentials
5,000 Events
32 Time Schedules

Pure Mobile Credentials:
Our new credentials, Pure Mobile, allow consumers to take the convenience of their mobile phone to the next level and turn access control into a simple, hassle free part of their day. The new Bluetooth® Low Energy feature of our Pure IP hardware family (RC-04) eliminates the need for a physical card and allows your mobile device to act as an access card. Available on iOS and Android. NFC credentials are purchased just like a card is purchased. Please give us a call if interested.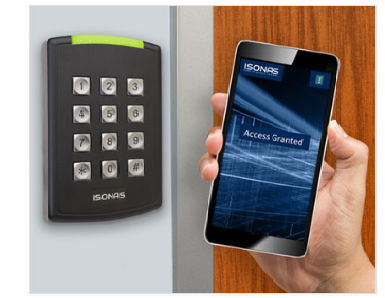 Pure mobile cell phone NFC questions and answers:

How does the mobile credential send a signal to the reader?
The reader and mobile phone communicate via Bluetooth Low Energy ® The power-efficiency of Bluetooth® with low energy functionality makes it perfect for devices that run for long periods on power sources, such as a mobile device.

What happens when a user loses their phone?
The mobile credential is just like a physical credential. If a badge is lost the user's credential should be disabled from the head end software and then a new enrollment and assignment to the new mobile device should be established.

Why isn't my phone being read at a reader?
Always make sure your Bluetooth is enabled on your mobile device, without this the reader and device cannot communicate. Also make sure the Pure Mobile app is running in the background.

Why does the app on my phone say Idle?
When the mobile device is not near a reader and therefore not sensing a signal it will read Idle. If there is a reader in range and your app says Idle double check that your BLE is enabled on your mobile device.

Why does my device read at multiple ranges?
The read range and BLE strength varies between hardware devices. The mobile app has a learned read range capability and it will learn over a period of reads what the correct read range should be for your specific device.

How do I order Pure Mobile credentials?
You can order from us. Once you receive the email confirmation, your users can download the app from the app store by searching ISONAS Pure Mobile.

3776



ISONAS Clamshell Proximity Cards In Packs Of 25
ISONAS clamshell style proximity cards can have a replaceable peel off label enabling reuse of the card for a different person.



ISONAS Thin Type Proximity Cards In Packs Of 25
ISONAS thin cards can be printed edge to edge on two sides. These cards are individually numbered.

ISONAS Proximity Fob In Packs Of 20
ISONAS Key Fob Proximity tag can be conveniently attached to a keyring.

ISONAS (3M) Adhesive Proximity Tag Pack Of 100
Made by 3M, these are amazingly small! Since they have an adhesive backing, allows you to turn normal items into a proximity credential. Some examples include: Student ID cards, books, computers, and cell phones.

Specifications:
Color: White
Material: PVC
Size: 0.04 inch thick x 0.975 inch diameter
Sticky on one side using 3M tape


Please note: this disc will only work with the Isonas version of the Isonas readers. Will not work with the Isonas HID readers.

ISONAS Door Kit™ For Exterior Doors
Used to secure lock wires on exterior doors

Presenting the ISONAS External Door Kit™ Newest product in the award-winning line of PowerNet IP Readers™ Protects the lock wires on the unsecured side of the door.

Planned usage:
Used on external doors
Placed on secure side of door
Does not require any external power
Supports Fail Secure and Fail Safe locks

When an ISONAS PowerNet reader is attached to an external door, there are sometimes concerns that the reader can be removed from the wall granting access to the electric lock wires. Worry no more! When the EDK is installed correctly the lock wires are never in contact with the unsecured side of any door. The relay wires connecting the ISONAS reader to the EDK use a proprietary encrypted signal modulation technique which must be correctly sent to the EDK before the EDK relay will operate. The EDK is very easy to install on the secure side of the door by simply putting the device in-line between the reader and electronic lock. The reader is then configured via the Crystal Matrix Software™ to use the EDK and that is the end of the installation.

Isonas In-Rush Suppressor
Protects your reader from in rush voltages seen with some magnetic door locks.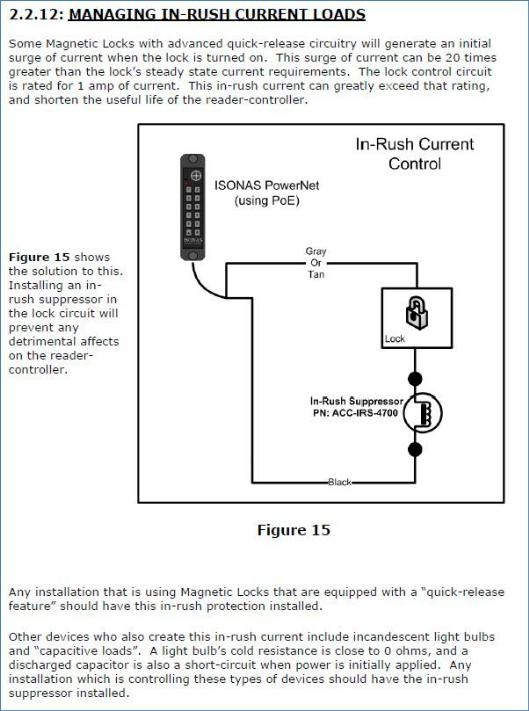 Isonas 3x4 ClearNet Reader IP Proximity Card Reader
Sorry we are all out of this product.

This reader works with the Isonas format cards and fobs. This is an older Clearnet reader. Only order if you ned to replace an older Isonas clearnet reader.We only have a few left. Please call for availability.

3249-B

Isonas Documention And Help Files
Isonas Software License Agreement
2 year Isonas Software License Agreement

We also accept Paypal for US orders and now also international orders through our International Checkout.
We are proud to be A top rated store!



Phone:561 477-1864

Have a question or comment? e-mail us! We look forward to hearing from you!
In This Business Since 1978



All rights reserved 1996-2020 The Keyless Lock Store™ and Nokey.com™



Customer Testimonials Taken Directly From Shopping



Knock lock (Knocklock) - Knock To Unlock
$98.00



Aiphone Very Easy To Install Intercom System
$149.00



Supra Keyless Digital Key Cabinet
$129.00



Yale (Assa-Abloy) Assure (Real Living) Electronic Deadbolt Lock
$319.00



Yale/Arrow NexTouchTouchscreen Electronic Lock
$479.00



The Lure Of The Lock Book
$59.00