Light Duty Electronic Cabinet Lock
Constructed with superior heavy duty metal, this compact electric lock is an ideal choice for securing any cabinet or drawer. This lock is easy to install with self-adjusting alignment tabs for side or top mounting capabilities. Four countersunk mounting holes also ensure that the lock is securely mounted. Lock mode is determined by the positioning of the lock solenoid.
Dual voltage - 12 or 24 vdc

Elongated holes on pin for adjustable mounting

3-year limited warranty

Surface-mounted compact electric lock

Field selectable fail locked or fail unlocked assembly - just flip solenoid

12VDC or 24VDC Operation

Plated (rust-resistant) self adjusting steel locking pin assembly

320 lbs. or 145 kg. holding force

Low energy consumption - (184 mA @ 12VDC, 90 mA @ 24VDC)

Superior heavy duty metal construction

Black finish



Lock Housing size: 1.13"D x 1.19"W x 2.86"L (28.7mm x 30.1mm x 72.7mm)
Locking Pin Assembly 3/16" (.18 inches or 4.5mm)
Operating Voltage 12VDC continuous; 24VDC continuous
Mode of Operation Fail Unlocked or Fail Locked
Cycle Rating 500,000 cycles
Current Consumption 3512: 184 mA @12VDC 3514: 90 mA @ 24VDC
Holding Force 320 lbs. or 145 kg.
Operating Temperature 14º to 104°F -10º to 40°C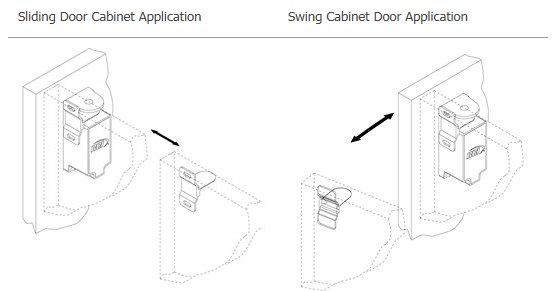 Typical installation


Where can you use this lock?: Surface mounted for maximum versatility, this electro-mechanical lock can secure a multitude of applications, from drawers and sliding doors to cases, lockers, cabinets, and more. With internal placement, this lock virtually disappears, making it ideal for any fixture where aesthetics are important.

For interior usage only!


Related Products
Fingerprint readers
Card readers
Digital keypad system
Chip Reader
Proximity card Reader
Multi Door Proximity Access Control
Receptionist unlock button
Wireless Electric strike controller
Knocklock (Great for hidden book cases)


Don't forget the power supply! Go here
Or a power supply with back up battery system Go here



We also accept Paypal for US orders and now also international orders through our International Checkout.
We are proud to be A top rated store!



Phone:561 477-1864

Have a question or comment? e-mail us! We look forward to hearing from you!
In This Business Since 1978



All rights reserved 1996-2020 The Keyless Lock Store™ and Nokey.com™



Customer Testimonials Taken Directly From Shopping



Knock lock (Knocklock) - Knock To Unlock
$98.00



Aiphone Very Easy To Install Intercom System
$149.00



Supra Keyless Digital Key Cabinet
$149.00



Yale (Assa-Abloy) Assure (Real Living) Electronic Deadbolt Lock
$359.00



Yale/Arrow NexTouchTouchscreen Electronic Lock
$479.00



The Lure Of The Lock Book
$59.00