Dortronics 4700 Series PLC Man Trap Interlock (Door Interlock) 2 Door System
Please note that magnetic locks and electric strikes and doors and door closers are not included. Please call or email if you need help choosing which will work best for your installation.

Secure 2, 3 or 4 Door For 5 and 6 door systems see below. Commonly know as bank or airport interlocks or interlocking systems, interlocking Mantrap or door interlock or air lock. This product is very customizable and can be configurd to do just about anything you need so call us to discuss your system.
The Interlocking 4700 series 2-Door Controller provides power and control for two doors with electric locks. Up to four (4) doors may be interlocked with the Door Controller. Air-Locks or Security Portals Suitable for environmental or security control, the door interlock logic allows only one door to be unsecured at a time. The controller may be configured to have both doors locked or only one door normally unlocked to allow faster egress. Universal R-E-X Inputs Request-for-Access devices may be normally open or normally closed dry contact devices. Both types may also be used simultaneously. Traffic Indicator Lights Relay outputs are provided to control traffic lights. For user convenience, a green light is typically used to signify a door is ready for access. A red light is usually lit to indicate that a door is un-accessible. Alarm relay outputs are also available for special requirements.
Integral 12/24 VDC Power Supply is included
. The built-in low voltage power supply provides sufficient current to operate 12 or 24 VDC electromagnetic locks or strikes, including redundant maglocks and strikes on each door for high security projects. The heavy-duty power supply assures reliability for extended usage in the most strenuous environments. Fire Alarm Input/Output Ready for hook-up to the fire system, no additional relay interface devices are required. An alarm output is also provided for monitoring the control system. Total Protection & Back-up Power The 110 VAC input and DC output are fused to protect the system against overloads and shorts. The switching regulator prevents excessive current draw. The optional back-up batteries are automatically charged to provide immediate 12 or 24 VDC output upon loss of AC power. Remote Control & Monitoring The #7600 Annunciator/Controller is also available for integration with this system.
2, 3 or 4 Door Security Interlock

12 or 24 VDC Lock Power

Normally Closed Door Secure Input

Open or Closed R-E-X Inputs

Maglock & Strike Relay Outputs

Indicator Light Control Relays (See below for optional High Intensity LED Indicators)



Secure Door Interlocking
Only one door may be unlocked at a time. Unlocking one door automatically secures all other doors. A request for access will inhibit the REX inputs for all other doors unless another door is already unsecured. For faster traffic flow, a single door of a 2-door mantrap may be left unlocked. A request for access at the secured door will cause the unlocked door to be secured. Once both doors are secured, the request for access will be granted. Traffic Indicator Lights Outputs (from lock power) allow red and green lights to be utilized for user feedback. A green light indicates that access is permitted, while a red light signals that the other door is open and access is denied at this door. Multi-Door Interlocks See the Dortronics programmable door controller for mantraps requiring more than two, three or four interlocked doors.

Quick Easy Installation
Installation is fast, from mounting the enclosure to the connection of wiring. No need to add additional relays for alarm monitoring or the fire alarm interface. Large barrier terminal blocks are provided for all field device connections. Reliable Operation The unique design of the power supplies insures a reliable source of lock power in all situations. Components that exceed normal specifications are used to extend the operating lifetime. Optional Features: xBAT - Dual 7-AH rechargeable batteries for 12 or 24 volt back-up power xCAM - Hinged cover cam lock with key



-------------------------------------------------
Secure Interlock Door Control

The 4700 series Programmable Logic Controller is an economic way to control up to 4 interlocked doors. The controller logic sequences simultaneous requests for access and monitors unsecured doors to maintain the highest level of security at all times.

Environmental or Security Control
Suitable for air locks or security mantraps, with up to four normally unlocked doors or three normally locked doors.

The controller may also be customized to control automatic door openers and provide timing and logic sequences for biological wash-down controls. Typical configurations also provide outputs for traffic lights, forced doors and an emergency panic release input.

Access Control Compatible
Any access control system can be used with the 4700 series controllers. The request for access input recognizes any normally open dry contact.

12/24 VDC Power Supply
The 4700 series PLC controller is paired with a heavy duty 4-amp power supply that includes a Fire Alarm connection for emergency egress and provides power to operate the maglocks and electric strikes and traffic lights. An alarm output is also provided.

Typical Configurations:
#47211-U – Standard 2-Door / 1-Room Normally Unlocked

#47211-L – 2-Door / 1-Room Normally Locked

#47321-LU/S – 3-Door / 2-Room 1-Normally Locked & 2-Normally Unlocked with 1-Shared Door

#47431-U/2S – 4-Door / 3-Room Normally Unlocked with 2-Shared Doors

Operation :
Only one door may be unlocked or open at any time. Unlocking or opening one door automatically secures all other doors within the designated area. A request for access at any normally locked door will inhibit the REX inputs for all other locked doors and secure all unlocked doors in the area.

Lock relay contacts will switch low voltage power to maglocks and/or strikes. The lock relay contacts also allow low voltage red and green LEDs to be utilized for indication of lock status. For user feedback, typically a green light indicates that access is permitted, while a red light signals that another door is open and access is denied at this door.

Some outputs may also be programmed to indicate alarm conditions. Other customized operations may be factory programmed to allow timed sequences, etc.



Physical Data:
Enclosure - 12" x 16" x 4" deep NEMA enclosure will accommodate PLC controller & one I/O module with power supply. Additional modules may require larger enclosures. PLC Module - 4-1/4" x 2-3/4" overall

Electrical:
AC Input - Fused 110 VAC DC Output - 4 amp field selectable 12 VDC

Inputs:
Six Digital Inputs for Door Status (Dry contact closed when is door secure) and Request for Access (Dry contact normally open)

Outputs:
Two Relay Outputs - DPDT Contacts rated 3 Amps @ 28 VDC for each door (Magnetic lock or strike & LED traffic indicators for each door. Two Relay Outputs - SPDT Contacts rated 3 Amps @ 28 VDC for each door (Magnetic lock or strike & LED traffic indicators for each door.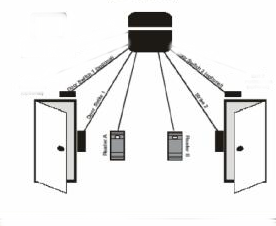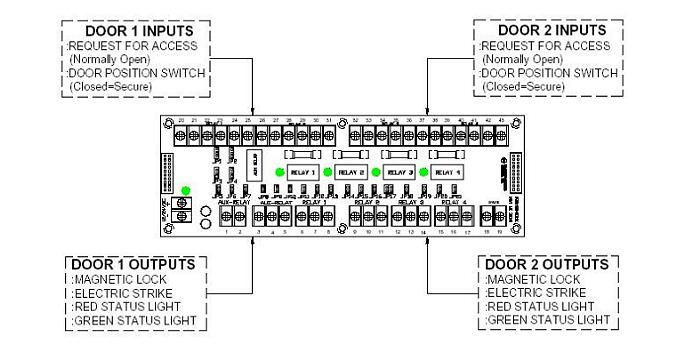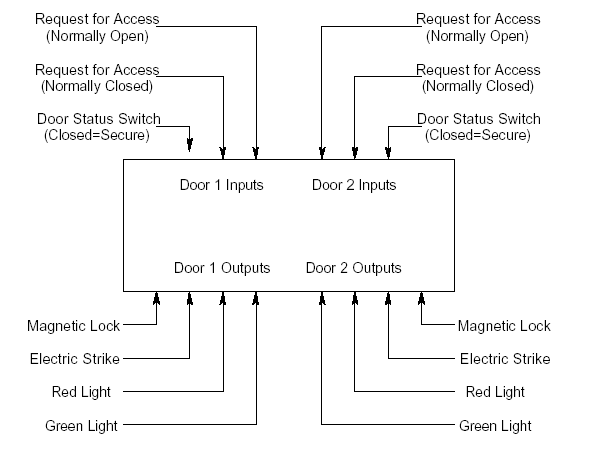 Related Products
See our electric strike and magnetic lock section
See our electric lock section


Please note: this item is a highly customizable product. Because of the nature of this product we encourage you to all us to go over your need before you place your order. This way we will have an idea of what your installation will be and try to set it up accordingly. The great benefit of doing this is that when your system arrives it will work for your installation perfectly.



We also accept Paypal for US orders and now also international orders through our International Checkout.
We are proud to be A top rated store!



Phone:561 477-1864

Have a question or comment? e-mail us! We look forward to hearing from you!
In This Business Since 1978



All rights reserved 1996-2020 The Keyless Lock Store™ and Nokey.com™



Customer Testimonials Taken Directly From Shopping



Knock lock (Knocklock) - Knock To Unlock
$98.00



Aiphone Very Easy To Install Intercom System
$149.00



Supra Keyless Digital Key Cabinet
$129.00



Yale (Assa-Abloy) Assure (Real Living) Electronic Deadbolt Lock
$319.00



Yale/Arrow NexTouchTouchscreen Electronic Lock
$479.00



The Lure Of The Lock Book
$59.00