Please note that this item has been discontinued.

This new i-Qwik Data digital electronic lock from Marks has some great features including the unique ability to load in a group of individual codes for different users and to then attach a time or date frame to them. For instance: you can install this lock on your house rental and input many codes and give your
renters their own unique codes
for their stay. When they leave, their codes will no longer work. Now just give another code that you have attached to a time frame to your new renters! And unlike some other locks with similar capability, there is no monthly fee to pay for this type of service! One of the best features of this lock is how easy it is to install. Unlike many other locks there is no reason to drill multiple holes through the door. Only the main 2 1/8 inch diameter hole and one additional smaller hole. No reason to make your door look like swiss cheese!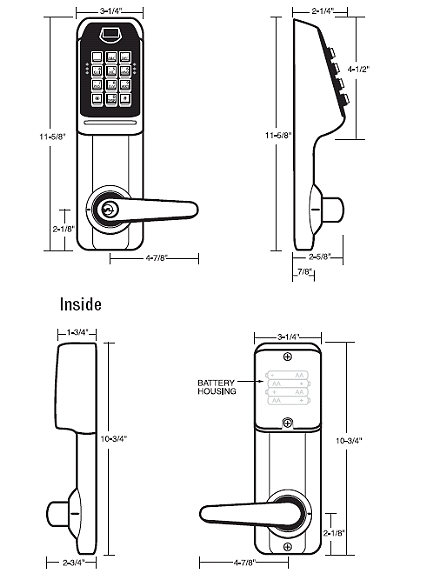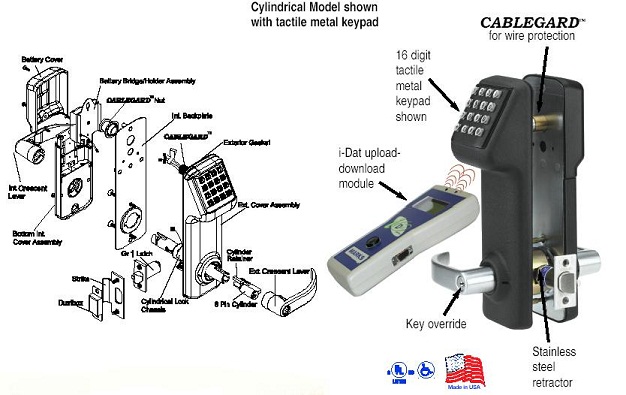 The i-Qwik is a freestanding access control product. It allows doors to be locked or unlocked via a user-programmable keypad, rather than a key. All i-Qwik Locksets feature the "Cablegard¢â" to protect the wiring going through the door.
Cablegard protects wires for easy installation
Weatherproof standard
2 3/4 inch backset. Other backsets: 2 3/8, 3 3/4 and 5 inches available. Please call for pricing and availability.
Shielded electronics
16 Digit tactile metal keypad
320 User capability
1600 Event audit trail (Audit trail requires i-Dat Module)
160 Scheduled events
32 Programmable holidays
Real time clock
Multiple entry codes for maximum security
Full scheduling features
Terminator On/Off
Built-in relay
3-10 Digit user code
Temporary user codes
First manager to arrive
Panic alarm interface
Secretaries button interface
Fire tower lock function
Programmable by keypad or by use of the i-Dat software package
On-the-door upgradeable memory
Privacy Mode S
cheduled/Manual passage mode
Audible & visible entry indicator
Audible low battery alert
4 "AA" batteries included
Lifetime Mechanical Warranty; 2 Year Electronic Warranty



What you can do with this lock?: Although this keypad lock is more or less like most other keypad locks in that it can respond to codes, it can also do something special. With it's on board timer and firmware you'll be able to program individual users separately for day and timer access. For instance, you can program a persons code number (Pin) to unlock a door only on a certain day or days or for certain hours in the day. Sort of like a timed master-key system. Most other keypad locks only allow you to enroll or delete.



Please note: this lock may be programmed at the keypad without the optional Marks Upload/Download Module but you'll need the module to do audit trails. If you will be doing extensive programming the module is recommended.