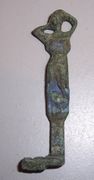 circa 2nd-4th A.D.

Venus was a major Roman goddess principally associated with love and beauty and fertility, the equivalent of the Greek goddess Aphrodite and played a key role in many Roman religious festivals and myths.

The Roman goddess Venus assumed the divine responsibility for love, beauty, and sexuality, not to mention marriage, procreation, and domestic bliss.

She was also known as the Venus Verticordia, goddess of chastity in women, (despite her numerous randy affairs with gods and mortals) and as Venus Victrix, the goddess of victory in war, and also a nature goddess, associated with gardens and the arrival of spring. If a key could be sexy it would be this!





Period: - ROMAN Circa: - 2nd-4th A.D.

Material: - BRONZE

Dimensions: 65mm/2.56"

Condition: Extremely Fine



Found in the Balkans

Rare!