No battery needed for these locks!
Preso Matic™ Keyless Locks are manufactured right here in Englewood CO – 100% in the U.S.A. The Preso Matic Lock Co was founded by Albert C. Sanowskis in 1964, and the category of keyless convenience was born.
Our lock has been trusted by NASA, US Military (GSA Contract), NATO, FAA (first FAA approved lock) Fire & Police Departments, Boeing, Major Airlines, KOA Campgrounds, and many, many more that can be named - including my dad who put one on our family's home. We were the users and liked it so much we bought the company.
Preso Matic™ holds over 7 patents in the U.S. and 16 foreign countries. We held the first patent for the keyless door lock of this kind and created the category. Some other brands may have done more with it, but we are still the "Original" keyless door lock.
100% manufactured in the USA
All mechanical
Unlocks automatically when correct combination is entered
Large buttons for easy use
Replaces existing deadbolt
Install in the door for strength and a smaller profile appearance
Preso-matic keyless locks are un-pickable and bump proof and they can't be jimmy'd!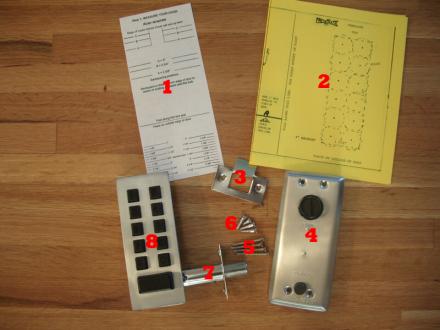 1: Door measure template. Use this to confirm the backspacing of your door. Fold the template on the line and confirm the measurements of your door. If anything does not line up right please call us immediately.

2: Lock install template. Use this template to mark the holes for drilling. We are currently in the process of developing a new template, if you're template is unlike the one in the picture, please follow the instructions on the template itself.

3: Strike plate. This is installed on your door jam, yours may look slightly different if you ordered a latch model, however they all perform the same function and are installed virtually the same.

4: Interior cover. The interior cover is installed on the inside of the door. The large button locks/resets the lock, while the smaller button will unlock the door.

5: Interior cover screws. Used to secure the interior cover to the lock.

6: Strike plate screws. Used to secure the strike plate to the door jam.

7: Deadbolt. This peice is removable from the lock for installation, but mounts securely on the right or left hand side (to fit any door) to make the lock an integral part of the door when installed. Yours may look different if you ordered a 2-3/8" deadbolt, or a deadlatch, but the installation process is the same for all locks (though the measurements are different)

8: Preso-Matic Keyless Lock. This is the lock itself.