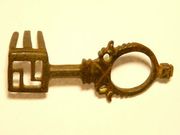 Very Rare Type Roman Bronze Key Ring
Very rare and unusual type Bronze Roman Key. Very beautiful and perfect condition. Last seen on the market around 1977 in a Hans Schulman auction in Europe. Could this be the type of key described by Arisophanes as "having three teeth and as being a cause of consternation to the women (wink) when adopted by their husbands"?



Size: 3 inches long by 1 inch wide. The bit end is very large and well defined. In perfect condtion with a very light brown patina. Just a beautiful Museum quality key!