The Securitron Electro-Mechanical Gate Lock
The GL1 electro-mechanical gate lock is designed to secure a wide variety of vehicle and pedestrian gate application where security and weather resistance are required. The GL1 functions equally well in both electrically and manually operated gate installations and can be used for swing gates, sliding gates, stock gates or other applications.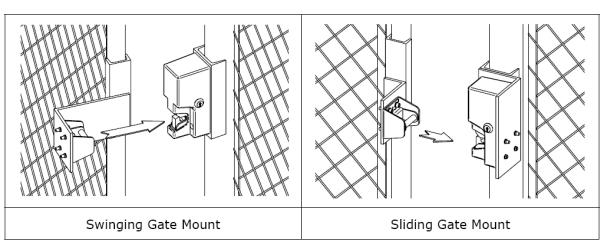 2000LB [907kg] holding force Gate Lock with automatic dual voltage. 12/24V AC/DC.
Features
:
Operates under preload up to 100LBS

Fail Safe and Fail Locked - easy to change in the field

Manual key override (install left hand or right hand)

Self-aligning receiver (+/- 1/2" horizontally and vertically) compensates for gate misalignment and sag

Tamper proof cast aluminum housing

Heavy wall 1/2" inside diameter threaded steel coupling

Hardened steel latch

Surface Mount

Black powder coat finish

Weather Resistant


Current Draw:
12 Volts: 870mA peak; 3.5 watts power consumption
24 Volts: 720mA peak; 4.1 watts power consumption

Dimensions: 2-3/4"L x 7-1/4"W x 3-1/4"D
Operating temperature: -58 to +167F [-50 to +75C]
For Indoor or outdoor use


If any Securitron product ever fails they will replace it for free! Just send the defective item to them and they will replace it the following day! It's an unconditional warranty from a great company!




Related Products
Fingerprint readers
Card readers
Digital keypad system
Chip Reader
Proximity card Reader
Multi Door Proximity Access Control
Receptionist unlock button
Wireless Electric strike controller


Don't forget the power supply! Go here
Or a power supply with back up battery system Go here







More Info On This Lock In The PDF Format
Securitron Flex-Mount Gate Lock Bracket Kits
Flex-Mount Gate Lock Bracket Kits The Flex Mount Bracket System is an intuitive set of mounting brackets designed exclusively for use with the 1200 lb. M62FG Magnalock® and the 2000 lb. GL1 Gate Lock. Using pre-formed post channels and plates of varying lengths, a professional looking high security gate lock mounting platform can be assembled in minutes without special tools.

Post Shim Brackets are used to adapt both small and large Post Brackets to pole/post sizes smaller than 2" or 3" respectively in 1/8" increments - 1-7/8", 1-3/4", 1-5/8" 2-7/8", 2-3/4", 2-5/8", etc.

When more than two shims are used together on a single post, welding the bracket to the pole/post is recommended.

All necessary mounting hardware including four Post Shims is included with each Flex-Mount Kit.

Product Features Pre-configured kits include all lock mounting hardware and post shims Post brackets are pre-drilled, lock and strike brackets are pre-tapped 8" tall x 3/16" thick zinc-plated steel provides durability and long life Lock and strike brackets are reversible doubling the mounting variations Allows simple bolt on installation, or the entire system can be welded Allows superior adjustabililty of lock and strike before final welding Permits electronics to be mounted on either the fence post or gate post

ELK 12 & 24 Volts One Amp Power Supply With Battery Backup
Comes with a limited lifetime warranty. Great to use to power a small one door access system with battery backup - includes metal case.

We also accept Paypal for US orders and now also international orders through our International Checkout.
We are proud to be A top rated store!



Phone:561 477-1864

Have a question or comment? e-mail us! We look forward to hearing from you!
In This Business Since 1978



All rights reserved 1996-2020 The Keyless Lock Store™ and Nokey.com™



Customer Testimonials Taken Directly From Shopping



Knock lock (Knocklock) - Knock To Unlock
$98.00



Aiphone Very Easy To Install Intercom System
$149.00



Supra Keyless Digital Key Cabinet
$129.00



Yale (Assa-Abloy) Assure (Real Living) Electronic Deadbolt Lock
$319.00



Yale/Arrow NexTouchTouchscreen Electronic Lock
$479.00



The Lure Of The Lock Book
$59.00