Sorry but we are out of stock on this item.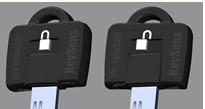 The lowly mechanical key hasn't really evolved much in over two thousand years...until now. The lock status indicator on the key changes its position when locking/unlocking the door and reminds us of the last action we have done! Amazing.
Please note that this is a blank key with no cuts. They must first be cut by a locksmith before they'll work.
When first setting up the key, make sure to adjust it to your door for the first time:
1. Lock the door from the outside.
2. Check the lock icon status of the (the little padlock). If it does not show "locked" move the rectangle icon by finger or screwdriver to the center position.
3. Unlock the door, the icon should indicate unlocked status.
Q: How does it work? How does the action of turning the key change the lock icon position ? A: The key head has a plastic mechanical gear, inside it, that translates the manipulation of the key to a change in the lock indication.
We currently only have SC1 and KW1 keys but soon we will have many others.