Dortronics 12-24 VDC 4 Amp Power Supply One Or Eight Output
Now available in either single or 8 outputs!
12 or 24 VDC Selectable Output

Maximum Output with Full Voltage

Total Circuitry Protection

System Staus LED Indication

Built-in Automatic Battery Charging

Remote Reset & Visual Indicators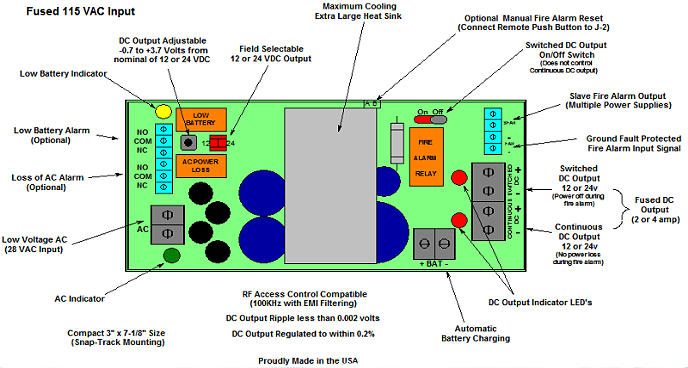 Reliable 12 or 24 VDC Output
This Power Supply provides a field selectable 12 or 24 volt DC output. The required output voltage is accurately regulated to fraction of a volt, even when operating under maximum load conditions. Output current is safely sustained, in both the 2 and 4 amp power supplies, while continuously operating under heavy loads. The extra-large capacity heat sink assures a long operating life in the most strenuous environments.

Totally Protected Circuitry
Both,110 VAC input and DC output is fused to protect the system against over loads and shorts and the switching regulator prevents excessive current draw. The battery charging circuit and the fire alarm input are thermally protected.

Automatic Battery Charger
The power back-up batteries (optional - see below ) are automatically charged according to the selected DC output voltage to provide immediate 12 or 24 VDC output upon loss of AC power. The adjustable trickle-charge output will maintain the number of batteries required for emergency back-up.

Fail-Safe Fire Alarm Input
Innovative design assures DC output cutoff by detecting ground fault is wiring to the fire panel; unlike other power supplies that may fail to release the FAR if any wiring insulation is scraped in the connection to the fire panel. LED Status Indicators ON-board LEDs provide visual indication of power supply operating conditions. A green LED is illuminated when AC power is present. The red LED is lit to indicate DC power at the output providing a quick determination of fire alarm input status. When the amber LED is lighted a low battery condition exits

Auxiliary Alarm Outputs
Alarm relay outputs are available to indicate loss of AC power and a low battery condition. The slave output from the fire alarm relay can be used to monitor the fire alarm input or to connect an endless number of power supplies to a single output on the building fire panel. For more relays see the optional 4 DPDT relay board below. This board can be used for turning on lights or alarms.

Remote Reset & Power Supply Status An enclosure mounted fire alarm reset button and auxiliary status LEDs are also available.

Quick Easy Installation
Installation is fast, from mounting the enclosure to the connection of wiring.. No need to add additional relays for alarm monitoring or the fire alarm interface.

The 110 VAC tie-in is quickly connected to the UL listed terminal strip with built in fuse. Separate termination points are provided for connection of battery backup and the main DC fused output.

Plug -on terminals speed wiring for alarm connections and to batteries used for back-up power. Large tri-barrier terminal blocks shield board components near the low voltage input and output connections.

Specifications:
Physical size Board only - 3" wide x 6" long x 2-3/8" high (including heat sink). Mounting- Standard 3" Snap-Track or attachment with stand-offs. Enclosure: - 12" wide x16" high x 4 " deep with lockable hinged cover.

Electrical:
AC Input - Fused 110 VAC to step-down transformer. #4202 - 2 amp Output @ 12 or 24 VDC (28 volt - 2.8 amp transformer #4202 - 4 map Output @ 12 or 24 VDC (28 volt - 2.8 amp transformer) DC Voltage Range - Field Adjustable from .7 volts below to 5.0 volts above jumper selected DC output. DC Regulation - Accurately regulated to within 0.2% of voltage setting. DC Filter - Ripple almost nil, measuring only .002 @ 24 volts DC. Battery Charging - Adjustable trickle charge (factory set @ 300 mA for 12 volt battery back-up).

For the 8 output: .5 amps x 8 @ 24vdc - or .5 amps x 6 @ 12vdc - both values are usually adequate for most magnetic locks or electric strikes.



We also accept Paypal for US orders and now also international orders through our International Checkout.
We are proud to be A top rated store!



Phone:561 477-1864

Have a question or comment? e-mail us! We look forward to hearing from you!
In This Business Since 1978



All rights reserved 1996-2020 The Keyless Lock Store™ and Nokey.com™



Customer Testimonials Taken Directly From Shopping



Knock lock (Knocklock) - Knock To Unlock
$98.00



Aiphone Very Easy To Install Intercom System
$149.00



Supra Keyless Digital Key Cabinet
$129.00



Yale (Assa-Abloy) Assure (Real Living) Electronic Deadbolt Lock
$319.00



Yale/Arrow NexTouchTouchscreen Electronic Lock
$479.00



The Lure Of The Lock Book
$59.00