Amazing. The ConChip lock is truly wireless and hidden with nothing showing on the outside!"
It will read through a 20mm non ferrous cabinet door! It can even be mounted to the inside of a glass door with the optional glass mount kit. (See below)
Where can you use this lock?: Surface mounted for maximum versatility, this electro-mechanical lock can secure a multitude of applications, from drawers and light weight sliding doors to cases, lockers, cabinets, and more. With internal placement, this lock totally disappears, making it ideal for any fixture where aesthetics are important. Please note the striker or keeper in the picture above is the one that comes in the set. It's heavy duty and made from metal and is spring loaded.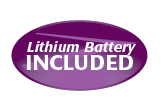 The new Conchip 3590 CRD lock is a new patented electronic locking system powered by a lithium battery, designed specifically for the furniture industry - drawers, doors, lockers etc..Using a proximity chip that acts as a key, you can control the locking mechanism. Up to 50 elctronic card keys can be programmed for each lock, with 2 million possible combinations for ultra high security.
Each lock comes with a metal striker, 3 volt battery Lithium 10 year battery (or about 30,000 openings), a programming card and one user card. Of course more user cards and fobs can be ordered - see options below.
Lock can be mounted either horizontally or vertically so hole keeper will accept strike in two positions
Easy to program – no need for software or PC
Reliable function through up to 25 mm of non-conducting material (about one inch)
Minimum 30,000 latch openings per battery - This lithium-battery with 3 volts has a lifetime of approx. 10 years and enough power to open the lock over 30,000 times. If the power is running out, the lock will measure it during the opening process and will stay open and a 15 seconds alarm will appear.


Programmable for up to 50 different keys
Use as supplement security to existing RFID systems
Extremely robust through impact-resistant motor function
Built in safety feature. If the long lasting battery dies the lock will unlock so no lock out situation.
Simple to install at all times
25 kg holding force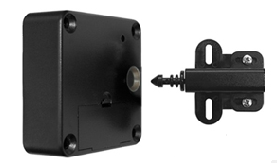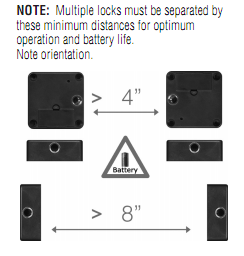 Notice that the keeper can be inserted either vertically or horizonally



How it works:
Programming Instructions Reading in of programming card 1. Press the push-button on the back [1] 2. The lock will make a ticking sound (signal). Place the programming card in contact with the lock within 3 seconds of hearing this signal. 3. Two short rising tone signals confirm that the programming card has been saved successfully.

Reading in of key card or chip key 1. Please place the programming card in contact with the lock. 2. The lock will make a ticking sound (signal). Place the key card or chip key in contact with the lock within 3 seconds of hearing this signal. 3. Two short rising tone signals confirm that the reading in was successful. 4. The lock can now be opened with the key card or the chip card.

Cancelling the key card or chip key 1. Please place the programming card in contact with the lock. 2. The lock will make a ticking sound (signal). Place the key card or chip key in contact with the lock within 3 seconds of hearing this signal. 3. Two short rising tone signals confirm that the cancellation was successful.

Delete all keys To delete all keys at once, please place the programming card for more than 15 seconds in contact with the lock.



Specifications:
Dimensions: LOCK: 7/8" deep x 2-3/8" wide x 2-3/8" long (21.8 mm x 60.1mm x 60.1mm) STANDARD PIN: 7/8"D x 2-51/64"W x 2-5/64"L (22.2mm x 70.9mm x 52.8mm)

Mode of Operation: Fail Locked

Cycle Rating: 30,000

Holding Force (Manufacturer Tested) STANDARD PIN: 141lb (64kg)

Power Requirements: 3V - Lithium battery (included

Low Battery Warning: Audible Alarm will sound for 10 seconds. Fail Unlocked when battery power fails.

Operating Temperature: 14ºF to 140ºF (-10°C to 60°C)



Model 3590SPCRD