Securitron 59 User Digital Keypad System

Fully Weather-Proof And Water-Proof
A high security, very sturdy and versatile system. Ten separate buttons (true ten digit) allow almost unlimited combinations. This keypad is fully weatherproof and comes with a lifetime manufacturer's warranty and Securitrons great customer support! All programming is done right at the keypad. It will retain all memory in its eprom. Can be connected to almost any power supply that is 12 to 24 volts ac or dc. When a digit is pressed, it beeps and it also has three leds to help with programming and to give feedback while operating. Even an extra button with it's own relay that can be used as a door bell. This is a serious keypad system. Not to be compared to the more common minimum security single piece type keypad.
This two piece system is inherently more secure than all in one type keypad
After 3 incorrect codes the keypad turns itself off and sounds a local alarm

Up to 59 seperate user codes (user codes are seperate codes for different people, each with his own code) - see below for model with more codes

Use up to 7 digits for extra security

True 10 digit keypad

Has an extra button that can be used as a door bell or relay to control a light or sounder

3 LED's to help program

Easy to install on any flat surface - dosen't need a cutout or an electrical box


Dimensions:
7" long x 1 1/2" wide x 1" deep


If any regular Securitron product ever fails they will replace it for free! Just send the defective item to them and they will replace it the following day! It's an unconditional warranty from a great company!
The no hassel MagnaCare Lifetime Warranty : As a continued commitment to excellence in customer service and product quality, Securitron introduces MagnaCare™ Lifetime Replacement Warranty. This unique program, covers virtually every product we manufacturer, for any reason (installation error, vandalism, or even rare factory defects) for the lifetime of the installation! MagnaCare™ even includes next business day overnight delivery at no charge. The MagnaCare™ Lifetime Replacement Warranty program is included in the cost of the product and is retroactive to January 1, 1999.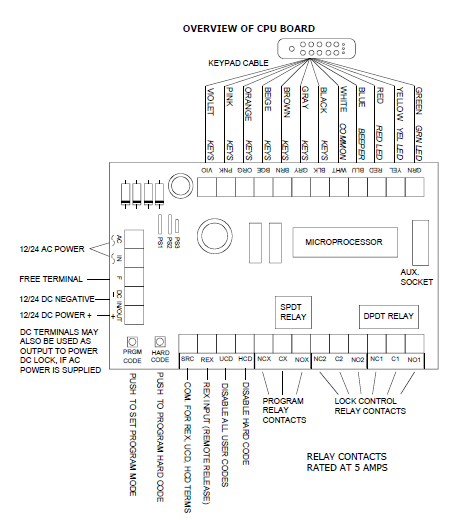 Related Products
See our electric strike and magnetic lock section
See the book: The Guide to Electronic Locking Devices

Don't forget the power supply! Go here
Or a power supply with back up battery system Go here





We also accept Paypal for US orders and now also international orders through our International Checkout.
We are proud to be A top rated store!



Phone:561 477-1864

Have a question or comment? e-mail us! We look forward to hearing from you!
In This Business Since 1978



All rights reserved 1996-2020 The Keyless Lock Store™ and Nokey.com™



Customer Testimonials Taken Directly From Shopping



Knock lock (Knocklock) - Knock To Unlock
$98.00



Aiphone Very Easy To Install Intercom System
$149.00



Supra Keyless Digital Key Cabinet
$129.00



Yale (Assa-Abloy) Assure (Real Living) Electronic Deadbolt Lock
$319.00



Yale/Arrow NexTouchTouchscreen Electronic Lock
$479.00



The Lure Of The Lock Book
$59.00